Public consulted on IoM 'broken' pension reforms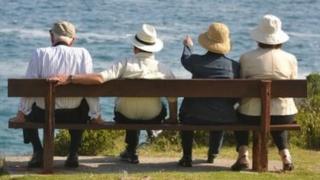 Members of the public are being consulted on a series of "wide-ranging" changes to the Isle of Man pension and benefit system, said the government.
It comes after a review last September by consultancy firm Ci65 Ltd which said the island's policies were "unsustainable" and "broken".
Proposals being considered include increasing the length of qualifying years for a full pension from 30 to 45.
People born in 2011 or later could be expected to work into their seventies.
The current state pension on the island is worth about £167 a week.
'Exhausted by 2055'
The qualifying age in the Isle of Man is currently the same as the UK - men can draw a pension at 65 and, by 2018, the female retirement age will rise to the same level.
The Ci65 report stated that the Manx state pension is paid "too early, too generously and to too many people" and the current scheme offered no incentives or support for people who want to work for longer.
"The social security scheme is broken, not just financially," the report said. "It is failing those individuals who are able to do more but are supported and encouraged by the system to do less".
It added that, based on existing policies, the Isle of Man NI fund could be exhausted by 2047.
Feedback to the proposals should be made directly to the Treasury department before 15 May.