Douglas promenade: Approval sought for £21m makeover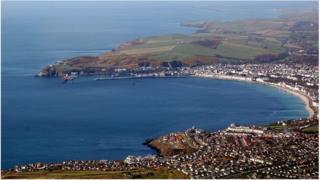 The Manx government's plans to give Douglas promenade a £21m makeover are to go before Tynwald later this month.
The scheme would see the first major resurfacing of the two-mile (3km) promenade since 1935 and the relocation of the 140-year-old horse tram tracks.
Infrastructure Minister Phil Gawne said it was a "once in a generation opportunity" which must be done properly.
If approved by MHKs, work on the five-year project could begin in November.
A spokesman for Mr Gawne's department said improvements were "urgently needed."
The road surface, he said, was "cracked, patchy and uneven and has reached the end of its useful life."
Original plans were put on hold last year while public opinion was sought on a range of issues including car parking and the moving of the horse tram tracks.
After 800 responses to that public consultation, the latest proposals are said to reflect the opinions of hoteliers, retailers and Manx residents.
Mr Gawne added: "This represents an investment in the island's infrastructure for the next 50 years, so we must get it right.
"We need to be bold and innovative. The proposals will no doubt challenge people's traditional views, but I believe we must be brave and show some leadership and ambition."
The proposed scheme would run from the bottlenose car park near the Sea Terminal to Strathallan.
It is not yet known what disruption will be caused to traffic on the promenade during the improvement works.