US personnel killed in Manx plane crash remembered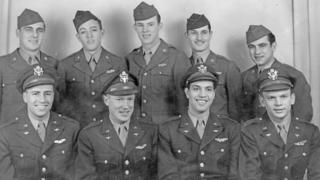 It started as a mission to collect whiskey for a party towards the end of World War Two and ended in a blazing inferno in which 11 US personnel died.
On 14 April 1945, just a month before the end of World War Two, 10 US servicemen and one woman died after their Flying Fortress bomber crashed in the Isle of Man.
Lt Robert Vielle, an experienced and decorated pilot, had been flying a B-17G from England to Northern Ireland when he hit bad weather over the Irish Sea.
The aircraft veered off-course by several miles before coming down and bursting into flames in a field above Port St May.
The exact cause of the crash has never been ascertained.
Those on board had been sent on a peaceful mission to Northern Ireland to collect supplies of whiskey for a party at the US Army Air Force station at Thurleigh in Essex.
Ivor Ramsden, a keen historian and aviation expert, said the flight was an example of the "sheer madness of war".
Four of the five crew flew together regularly on operations but the others were just there for the ride.
One of the passengers, Emily Harper Rea, 33, was responsible for setting up the Red Cross Clubs where American servicemen could relax and have a reminder of their far-away homes.
They were aged between 21 and 35.
A spokesman for the Manx Aviation and Military Museum said a small patch of bare soil still shows the exact spot where the plane crashed.
He said the peaceful field above Perwick was transformed into a blazing, smoking inferno; a place of devastation with twisted and unrecognisable metal strewn across the field with ammunition exploding and debris flying through the air.
The aircraft itself was an American Flying Fortress bomber - a large, four-engined machine capable of carrying several tonnes of bombs and armed with 12 machine guns.
The one in question, Combined Operations, was unusual.
It had been put together from two severely battle-damaged Flying Fortresses. The front end of one and the tail end of another were joined together with great care by the ground crewmen at Thurleigh.
Mr Ramsden said it was the engineers' way of giving Adolf Hitler an "extra kick in the pants".
He said their attention to detail made this a very special aeroplane which was well known in its squadron for being a "fast ship".
Research by the Manx Aviation and Military Museum has revealed that the aircraft flew on more than 80 bombing missions over Europe.
A service to remember those who died will be held at Perwick on Tuesday, where a permanent memorial was erected in 2012.
The site has been visited by several family members and friends of the victims including the late brother and sister of the plane's pilot.
Both were instrumental in researching the events surrounding the crash.
It was the island's worst ever air accident for just nine days, until another Flying fortress flew into North Barrule, killing 31 American servicemen.
Both stories will be told through displays at the Manx Aviation and Military Museum which is open at weekends in Castletown.
More than 400 aircraft crashed over the Isle of Man during the war, with a total of 200 lives lost.
The Crew
Pilot: 1st Lieutenant Robert Arthur Vieille, 23
Second Pilot: 2nd Lieutenant Collins Edward Liersch, 22
Navigator: Flight Officer Howard Edgar LeCompte Jr, 24
Engineer: Technical Sergeant Earnest Earl Gallion, 21
Radio Operator: Staff Sergeant Chester Frank Smalczewski
The Passengers
Captain Wilber Bradley Butterfield, 24
Captain George E. Cubberly, 32
2nd Lieutenant Austin J. Parrish, 28
Master Sergeant Derrell Sevier Jones, 35
Technical Sergeant William C. Starbuck, 27
Emily Harper Rea, American Red Cross, 33