Ramsey campaigners 'delighted' to save post office branch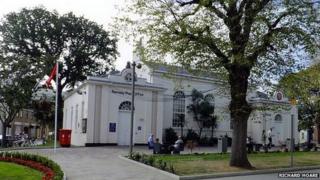 A campaign to save Ramsey's main post office from being relocated to a nearby shop has been successful.
More than 2,700 people joined a Facebook group to save the Ramsey courthouse branch, which they have described as the "town's heartbeat".
Isle of Man Post said it has "agreed in principle" to appoint Ramsey Courthouse Ltd (RCL) to operate from the current premises.
A spokesman said they are "looking forward to the partnership".
The main Douglas branch on Regent Street will still be replaced with a sub office on Strand Street run by Mannin Retail Ltd.
Chairman Graham Cregeen said the move could save £360,000 a year.
He said: "We are looking forward to maintaining services in Ramsey and Douglas while delivering substantial operational savings."
Ramsey Courthouse Ltd (a company to be formed) involves existing IOMPO staff members, local authority representatives and community representatives.
Mr Cregeen continued: "Ramsey Courthouse Ltd is the coming together of a community which has shown tremendous loyalty to the postal services in Ramsey.
"This creates a unique opportunity for the community to support its post office into the future."
Campaigners said they were "shocked, amazed and delighted" by the news that their branch was being saved.
Chairman of the town's commissioners, Captain Nigel Malpass, said he had never seen such an "outcry over a local issue."
He said: "It is the heartbeat of the town and I am very happy it will remain so."
IOMPO said nine of the 19 affected staff have conditionally accepted redeployment positions.
In December the Post Office announced plans to close both branches, which account for more than two-thirds of their annual £750,000 losses.
Manx politicians then voted to give campaigners more time to talk to staff and consider alternative options.
The four-month delay is expected to cost the organisation about £120,000.