Isle of Man's Ian Anderson guilty of murdering wife's lover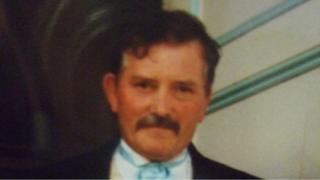 A man accused of killing his wife's lover during a fight in the Isle of Man has been found guilty of murder.
Ian Anderson, an aviation professional from Castletown, killed 60-year-old landscape gardener Neil Roberts in December 2013.
Anderson, 46, was convicted after a jury at Douglas Court House took a day to consider its verdict.
Deemster Alistair Montgomerie deferred sentencing until 24 April.
Following the hearing, the Isle of Man Police said: "The killing of Neil Roberts was an extraordinarily violent act by an individual.
"Throughout the trial, Anderson claimed that he is a caring and compassionate man.
"Caring, compassionate people simply do not do to others as Ian Anderson did to Neil Roberts."
The force commended Mr Roberts' family for the "dignity" members had shown, especially his daughter Lorraine who was present throughout the trial.