Isle of Man D-Day veteran to light beacon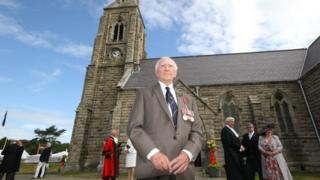 A D-Day veteran from the Isle of Man is to light a beacon at Tynwald Hill on Friday to commemorate the 70th anniversary of VE Day.
Hector Duff, 95, will participate in the ceremony, one of more than 100 being held around the British Isles.
The war veteran from Onchan took part in the Normandy campaign which led to the Allies' victory in Europe.
Mr Duff is the holder of the Military Medal, the British Empire Medal and the French Legion d'honneur.
The Manx government said all members of the public are welcome to attend the ceremony at 21:30 BST.
It will take place at the War memorial in St John's and will also include a Parade of Standards by the British Legion.
At 15:00 the Isle of Man will observe a two-minute silence to remember all those who died in service.