Endangered lemur born at Curraghs Wildlife Park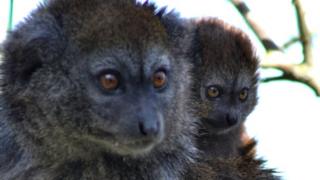 A critically endangered Alaotran Gentle Lemur has been born at the Curraghs Wildlife Park in the Isle of Man.
The primate is on the International Union for the Conservation of Nature's (IUCN) critically endangered list and is threatened with extinction.
In the wild, the African animals are only found in the reed beds around Lake Alaotra in Madagascar.
Its keeper Sarah Teare-Kermeen said the lemur was the first to be born at the wildlife park.
'Mum is protective'
She added: "I sought advice on the lemurs' diet and the design of their enclosure and I implemented changes that I'm almost certain have helped them breed.
"Mum is really looking after her youngster - she carries the baby on her back and I have seen dad carrying the youngster as well. We give them regular feeds and extra bamboo and the baby is growing well.
"We will wait until the youngster is a good age and weaned before we work out its sex - mum is protective and it is important to give them space at this stage."
The species is being threatened by the destruction of its natural habitat - reed beds are being burned and the lake drained for rice irrigation.
It is thought there are are only about 2,500 of the creatures left in the wild.
There are also 96 Alaotran gentle lemurs in 24 European wildlife institutions, and 11 births were recorded last year.