Isle of Man horse trams begin 139th season despite promenade plans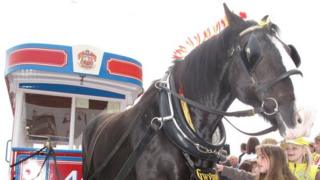 The Isle of Man's horse tram service has begun its 139th summer season, despite fears a £21m overhaul of Douglas promenade would see it stopped.
Government plans will see twin tracks used by the trams removed from the centre of the promenade and replaced with a single track on the walkway.
The service has been in operation since 1876 and is one of the oldest horse-drawn tram services in the world.
A Douglas Council spokesman said it was "business as usual."
The Douglas Bay Horse Tramway, which was built and originally operated by Thomas Lightfoot from Sheffield, runs along the promenade for 1.6 miles (2.6 km) from the Strathallan terminal to the Sea Terminal.
Horse trams will take the route between 09:00 and 17:20 until 13 September.
About 62,000 passengers used the service in 2014, a 3.6% increase on the previous year, but despite the rise, it ran at a loss of about £250,000.