Statue unveiled to remember Isle of Man miners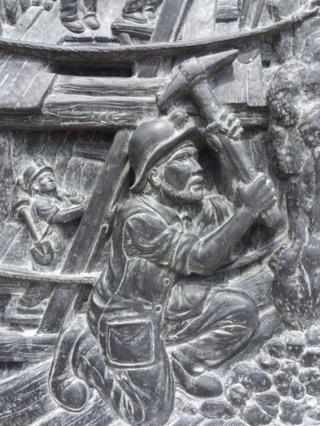 A statue commissioned as a tribute to the bravery of those who worked in the Great Laxey mines has been unveiled in the Isle of Man.
The one-tonne stone structure, which has been erected on a plinth in the heart of Laxey, was made in Bali by artist Ongky Wijana.
Co-ordinator Ivor Hankinson said the statue is dedicated to the miners who worked in very difficult conditions.
The Great Laxey Mine employed more than 600 miners between 1825 and 1929.
At its peak, it produced a fifth of zinc extracted in the UK.
Mr Hankinson added: "They were an extremely hardy men, very tough indeed and the sculptor has managed to convey that in his work very effectively.
"We have also had a plaque made in memory of those who lost their lives down the mines".
About 30 men were killed in mining accidents between the years of 1831 and 1912.
Some drowned, some were crushed in rock falls and others died in dynamite explosions.
"The working conditions were incredibly difficult," said Mr Hankinson.
"Some of the men had to walk miles to get to work in the first place. Once there, they had a two-hour journey on ladders down into the mines - some of the shafts were a third of a mile deep."
The statue, carved from a five-tone block of Carlow Blue limestone, took Mr Wijana 10 months to complete in his studio in Banjar Silakarang, Indonesia.
"These guys were tough but often looked weather-beaten, sunken-cheeked and worn out," said Mr Wijana.
"However, they also had a solidity to them and always a determination in their eyes that I wanted to capture."
Once erected on its plinth, the stone miner statue will stand about 13ft (4m) high.
It was funded by benefactor and Laxey resident Phillis Tate who died in 2012 at the age of 97.
It will replace a wooden carving of a miner which was removed in 2008 after it disintegrated with age.