World Tin Bath Championships take place in Isle of Man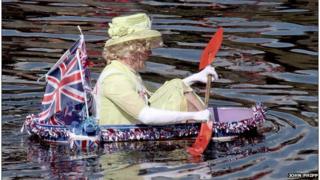 One of the Isle of Man's strangest sporting competitions, the World Tin Bath Championships, has celebrated its 44th anniversary.
Hundreds of people gathered around Castletown harbour to watch brave competitors race their customised bathtubs over a 400m course.
The winner is either the first to cross the finish line or the one who covers the furthest distance before sinking.
Competitors use the decorated tin baths like small paddle boats.
About 100 competitors from the British Isles, Europe and the United States vied for world titles this year.
The event has been running since 1971 and last year featured in the Daily Telegraph's top 10 weirdest festivals, ranking alongside Cornwall's Nudefest and Finland's Wife Carrying World Championships.
Organiser David Collister said: "People just like to have fun and the spectators come because they like to see people get wet and they like to see people sink.
"It's two hours of family fun and slapstick entertainment involving household tin baths that your granny will have used in front of the fire."
Mr Collister said the event, run by the Castletown Ale Drinkers, has raised more than £150,000 for local charities since it began.
Last year's men's champion Lee Cain was not defending his title. His brother, Nick Cain, 40, won the men's 2015 trophy.
The ladies winner was Erica Cowen who won her 16th title.