Tynwald: Two new MHKs sworn in after Douglas by-elections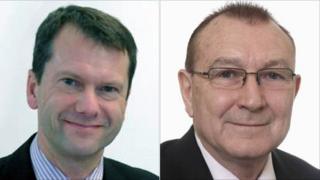 Two newly elected Members of the House of Keys have been sworn in following last week's by-elections in Douglas.
Residents in the Douglas North and Douglas South constituencies elected businessman Ralph Peake and former politician Bill Malarkey respectively.
Chief Minister Allan Bell said they are "two energetic individuals who I know will make a name for themselves".
The seats became vacant when Bill Henderson and David Cretney were elected to the Legislative Council.
Four candidates stood for election in Douglas South, while three others put themselves forward in Douglas North.
Mr Peake was elected for the first time whilst Mr Malarkey returns four years after being ousted from his seat.
---
Douglas South
William Malarkey, Electrical Engineer & Company Director
598
Keith Fitton, Registered Nurse & Charity Manager
502
Amy Burns, Homemaker
273
Kurt Buchholz, Businessman
164
Douglas North
Ralph Peake, Businessman
604
David Ashford, Businessman
554
Maire Booth, Shipping Officer
223
Source:Isle of Man government
---