Isle of Man TT 2015: Drone owners warned by police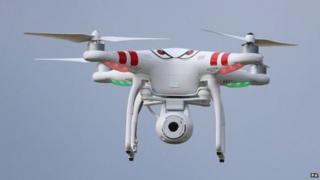 Racing fans have been warned about the dangers of operating drones during the Isle of Man's upcoming TT festival.
Police said it was illegal to fly one within 50m of the Mountain course, and that anyone caught doing so will face a fine of up to £2,500.
Sgt Barry Hand said anybody prosecuted could also have their drone seized or even destroyed.
The first TT practice session will be held on 30 May. Last year more than 40,000 people attended the festival.
Riders reach speeds of up to 200mph on closed roads.