Isle of Man public consulted over sky lantern sales ban plan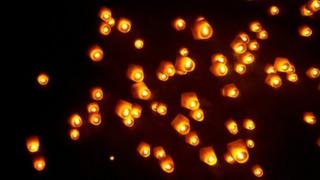 A consultation has been launched by the Isle of Man's Office of Fair Trading (OFT) to gauge public opinion on plans to ban the sale of sky lanterns.
In 2014 the Manx National Farmers' Union called for them to be made illegal after a cow died from swallowing lantern wire.
An OFT spokesman said the fire service has also expressed "significant concerns" over public safety.
The Manx government consultation will run until 3 July.