Guy Martin will face no police action over 180mph claim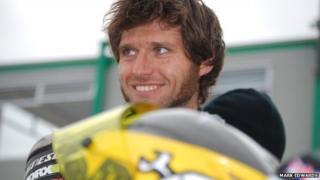 Guy Martin will not be prosecuted over claims he reached speeds of 180mph on public roads while reviewing an Aston Martin supercar, Manx police have said.
In his review of the 569bhp Aston Vanquish for the Sunday Times driving magazine he said he took sections of the Isle of Man's TT course "flat out".
Television presenter Martin, 33, and of Grimsby, Lincolnshire, said he clocked 22 minutes for his lap of the 37.7 mile (60 km) course in the £203,000 car.
Police said inquiries were "complete".
In his review, published on 7 April, Martin said he reached speeds of 180mph down Sulby straight, which has a 40mph speed limit.
He also wrote that when he passed Union Mills, on to a section with no speed limit, he thought "right, let's have it" and that he later took a corner called Ballacrye, near the village of Ballaugh, with the "accelerator flat to the floor".
He said he completed his lap of the course at about 06:00 BST.
---
Aston Martin Vanquish Carbon Edition
Performance: 0-62mph in 3.8sec
---
Insp Derek Flint said: "We have sought advice from the Attorney General's Chambers, and at this point, our inquiries are complete and we will not be seeking to take any further action.
"As we approach TT 2015, we'd like to remind residents and visitors alike that the majority of our public roads are governed by speed limits, which are rigorously enforced.
"Where there is no upper speed limit, road users must at all times be aware that there is a fine line between what is fast and what is dangerous."
Martin, who has never won a TT but finished on the podium more than 20 times, has completed a lap of the TT course in about 17 minutes and 30 seconds during a Superbike race.
The TT sees competitors reach speeds in excess of 200mph around closed roads each June.