Isle of Man TT 2015: Second TT practice session cancelled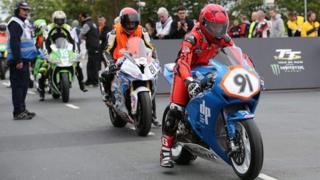 The Isle of Man's second TT practice session has been cancelled because of high winds and heavy rain.
Clerk of the Course Gary Thompson confirmed his decision at 14:00 BST but said Tuesday's session would "continue as normal".
The Met Office said 65mph winds were forecast for the Isle of Man later on Monday, combined with heavy rain.
The session had been scheduled to get under way at 18:20 BST on the Mountain Course.
The Isle of Man Steam Packet company said the "adverse weather" could also affect some sailings between the Isle of Man and the UK.
Delays are expected on Monday's sailing from Heysham to Douglas and the later service from Liverpool to the Isle of Man at 15:00 which is now expected to leave at 14:45.
Monday evening sailings from Douglas to Heysham and Liverpool could also be delayed, as could the 02:15 from Heysham to Douglas.
The company said it does not anticipate having to cancel any services.
The TT opening practice session, held on Saturday, was also curtailed due to bad weather.
Northern Ireland's Ryan Farquhar posted the quickest lap of the session at an average speed of 117.12mph
Organisers said the Noble's Park car park will not be opening at all on Monday to protect the ground for later in the week.
About 40,000 fans are expected to travel to the island for the festival, which has been running for more than 100 years.
The opening Superbike and sidecar races will be held on 6 June, with the Senior race on 12 June.