Douglas Promenade: Revised multi-million pound plans on display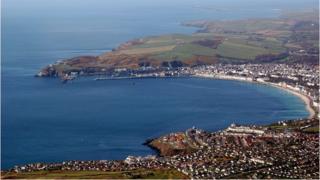 Revised plans for a multi-million pound makeover of Douglas Promenade will go on display later in the Manx capital.
The £21m scheme includes a revamp of the road, the widening of pavements and the relocation of the 1.6 mile (2.6km) horse tram track.
A government spokesman said the plans address concerns over the tracks' final position, crossing safety and the use of the walkway area.
An online group against moving the tram tracks has attracted 3,300 followers.
The latest scheme proposes a repositioning of the 140-year-old line between the War Memorial and Queen's Gardens.
A single track will be installed almost entirely where the pavement currently runs, adjacent to the road along Harris, Central and Queen's Promenades.
The move is expected to increase the current width of the walkway.
Infrastructure Minister Phil Gawne said: "I hope that repositioning the horse tram track, widening the walkway area and introducing controlled crossings will address the main concerns that people expressed in relation to the original planning application."
He added that his department has listened to feedback and incorporated a number of suggestions in its new planning drawings.
Other changes include the addition of several signal-controlled pedestrian crossings to assist vulnerable users.
The latest plans will go on display until 28 September and the new planning application is available to view on the government website.