Northern Lights: Isle of Man witnesses 'best ever' display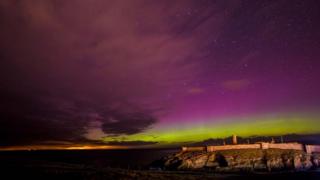 The Aurora Borealis, better known as the Northern Lights, have been photographed above Peel Castle on the west coast of the Isle of Man.
Local photographer Ron Strathdee captured the phenomenon on Wednesday at about 2230 BST.
He said it was the best display he had ever witnessed over the island.
The glow is usually best seen from northern latitudes including Norway, Alaska, Iceland and northern parts of Scotland.
They happen when incoming solar radiation hits the earth's upper atmosphere and excites atoms to a new energy state, emitting energy in the form of light.
Mr Strathdee said: "Normally with the naked eye at our latitude you don't see anything apart from a very faint glow and you begin to doubt yourself.
"Last night was different in that once your eyes were used to the darkness the green glow was easily seen and also occasional spikes and movement within the green".
Aurora hunting in the UK
Find out how to maximise your chances of seeing the Northern Lights
Follow Carol Kirkwood on her hunt for the aurora in Scotland
iWonder: How can I see the Northern Lights in the UK?
Another photographer, Christopher Stephens, captured the display at its peak from Ballaugh, also on the island's west coast, at about 19:30 BST.
He said: "There were clouds in the way for quite some time but finally it reached this point as they drifted east.
"As soon as the sky was clear it died down. We saw another small outburst around 22:30 with bright peaks and bursts of red curtains but nothing like it was a few hours earlier."
James Brew captured the display at Glen Moore beach and said it was the "best show of the year so far".
He said: "Another absolutely incredible showing of the Northern Lights again this evening on the Isle of Man.
"I never, ever, ever get bored of taking photos of this magical and mysterious wonder!"