Bridge collapse bus to be recovered after IoM flooding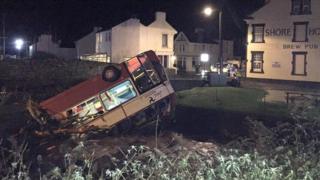 A school bus that fell into a river after a bridge collapsed in heavy rain will not be recovered until the weekend "at the earliest", said the government.
The driver escaped uninjured after his empty school bus fell into the Laxey river on Thursday.
Manx infrastructure said the bus salvage operation will involve moving overhead power cables and gas pipes.
Torrential rain on Thursday caused flooding across the island closing roads and leaving drivers stranded.
Police said the lower Laxey area, in the east of the island, remains closed after the bridge collapsed at about 16:00 GMT.
Garff MHK Steve Rodan said: "The Old Laxey Bridge has been there for 200 years- this is unquestionably the worst flooding I have ever seen in the village."
Work has also begun to clear the Mountain Road which was closed after a landslide blocked the carriageway.
Police said teams were still dealing with flooding in several areas with standing water and debris still reported on many roads.
Areas still affected include Colby, St Mark's Glen Vine, Port Erin, Crosby, Union Mills, Kirk Michael and Ramsey.
The National Sport Centre in Douglas was flooded - the facility remains closed on Friday.
The running track and sports halls were under water after the nearby river burst its banks.
A full list of the remaining road closures is on the Isle of Man Constabulary's Facebook page.