Peel P50 micro car sells for 'record' £120,000 at auction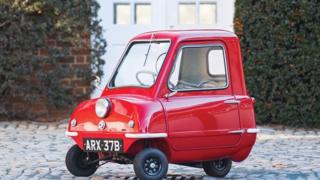 A rare micro car manufactured in the Isle of Man in the early 1960s has sold at an auction in the US for $176,000 (about £120,000).
The red P50 three-wheeler, made in 1964 by Peel Engineering, went under the hammer at RM Sotheby's in Florida on Saturday.
Only 100 of the cars were ever made. At the time, they retailed at £199, compared to £250 for a good motorbike.
Amy Christie from the auction house said bidding was "hotly contested."
She added: "It was the final lot of the day and drove onto the stage to great applause from the audience.
"It eventually sold for a remarkable $176,000 against a pre-sale estimate of between $75,000 and $100,000.
"This represents a world record price for a Peel P50 sold at auction."
Top speed '38mph'
Designed and built by Cyril Cannell and Henry Kissack, the P50, has three wheels, one headlight, three gears and no reverse.
The smallest vehicles to go into mass production, the vehicle is 53in (134cm) long and 39in (99cm) wide, with a weight of just 59kg (132lbs)- its 49cc engine allowed a top speed of 38mph (61km/h).
Peel Engineering was founded by Cyril Cannell in the late 1940's and at the peak of production the company employed 40 people.
The P50 model originated as a project to find the minimum possible dimensions needed for a functional car.
Originally it was just a fibre glass box on wheels created for a display at the 1962 Cycle and Motorcycle Show at Earls Court.
The publicity generated from the event allowed Peel to later develop an actual product from the prototype.