Giant Manx deer gets first make over in 100 years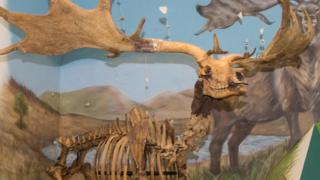 A giant deer skeleton, excavated in the Isle of Man more than century years ago, has gone back on display following an eight-month conservation project.
The deer, which has an antler span of more than 8.5ft (2.6m) was discovered in 1897 in a marl pit near St John's.
Manx National Heritage (MNH) said it was the first time conservation work had been carried out on the skeleton since it went on display 100 years ago.
It will be the centre piece of a new Geology Gallery at the Manx Museum.
The deer's restoration was part of a £100,000 project, funded by the Isle of Man government, which also included several new galleries and exhibitions.
An MNH spokeswoman said during the project the "significant and complete artefact" underwent major repairs before being cleaned with lasers.
DNA samples were also taken, with the museum hoping they can "tie the Manx deer to his cousins in Ireland, Scandinavia and Russia".
The articulated skeleton was originally displayed in the temporary museum at Castle Rushen in 1905 before being transported to the Manx museum in Douglas in the 1950s.
Conservator Christopher Weeks said generations of visitors have enjoyed the skeleton.
He said: "It seems to be one of the most memorable items from childhood visits."
He said that during the cleaning process they discovered the meticulous and careful work of Caleb Barlow of the Natural History Museum in London.
Mr Barlow visited the Isle of Man in 1897 at the invitation of Manx antiquarian and historian Philip Kermode.