Queenie festival cancelled because 'the sums didn't add up'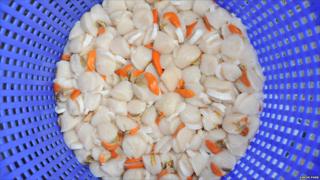 This year's Queenie Festival on the Isle of Man has been cancelled, the organisers have confirmed.
The festival, which has been held annually in Port St Mary since 2009, was attended by about 4,000 last year.
But the organisers, Switched On Events, said this year's festival - planned for 2-3 July - could not go ahead because the "sums didn't add up".
The festival - designed to celebrate fishing and other coastal industries - is named after Manx Queen scallop.
Since its beginning the event has included wildlife demonstrations, water sports, cookery demonstrations and live music.
The Queen Scallop is one of the Isle of Man's most popular exports and in 2012 was awarded the European Union Protected Designation of Origin (PDO) stamp.
This meant it joined foods such as Gorgonzola and Champagne in having protected status.