Cheshire sailors rescued off Isle of Man coast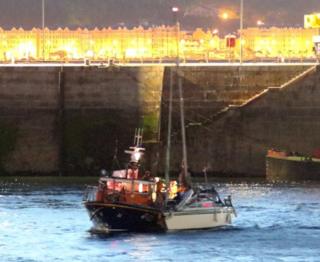 Three sailors from Cheshire have been rescued after their boat got into difficulties off the Isle of Man coast.
The Douglas lifeboat was launched at around 01:30 BST after the yacht's engine failed three miles (4.8 km) south of Douglas, near Santon Head.
All three on board were transferred to the RNLI all-weather lifeboat and their vessel was towed to harbour.
No-one on board the small pleasure boat was injured in the incident.
An RNLI spokesman said VHF radio direction finding equipment was used to locate the vessel in the dark".
The three sailors had been travelling to the Isle of Man after departing from Widnes at 08:30 BST on Wednesday.