Isle of Man TT 2016: Thousands to attend Ramsey Sprint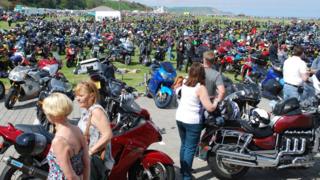 More than 5,000 fans are expected to attend the annual Ramsey Sprint in the north of the Isle of Man later.
The event, open to anybody who has a motorbike, sees bikers from all over the world compete over a one mile (1.6km) strip of promenade.
The Ramsey Sprint will take place near Mooragh Park on the town's sea front.
Organisers said the event is an opportunity for "non-professionals to race legally".
'Fire breathing'
The event will get under way at 10:00 BST with roads closing from 09:00.
Tom Burns said: "Every type of bike is welcome from 50cc machines right up to 'fire-breathing' drag bikes".
All competitors must have an ACU approved helmet and full riding leathers.
The event has been in existence for 40 years.