Isle of Man sex law 'wholly inadequate'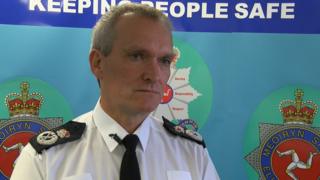 The Isle of Man's approach towards tackling sexual offences is "wholly inadequate" and "needs changing", the island's chief constable has said.
In his annual report to Tynwald, Gary Roberts said current strategies were "hugely out of date and need to be brought in line with the UK".
The Isle of Man Sexual Offences Act was last updated in 1992 and has been criticised by victims of sexual abuse.
Mr Roberts added: "Our laws still aren't good enough - that's a failure".
Home Affairs Minister Juan Watterson said in February that while he supported plans to review Manx legislation, any changes would not be put in place before September's general election.
He was responding to a petition - signed by more than 5,600 people - led by child sex abuse survivor Lisa Taylor.
Ms Taylor, who has waived her right to anonymity, wanted to raise public awareness and help "give victims a voice".
Mr Roberts said Manx laws had not kept pace with offending patterns which have changed since the widespread use of the internet.
"There are major gaps in the provision of services to victims of abuse," he added. "This is not a criticism of those trying to provide services, but instead it is a simple reflection of large gaps in the design and scope of such services."
In the report Mr Roberts pointed to the "unwelcome development" of "the sexualisation of young people and their easy access via the internet to sexual images".
"We have to protect vulnerable people in a better way by having better legislation," he said.