Same-sex Manx marriages can go ahead after Royal Assent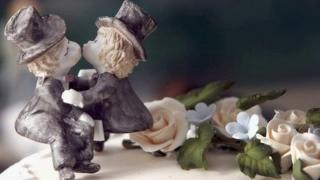 Same-sex marriages can go ahead in the Isle of Man following the granting of Royal Assent.
The Marriage and Civil Partnership Act is based on the same legal framework introduced in England two years ago.
It enables same-sex couples to marry in a civil ceremony or, subject to agreement, in a religious celebration.
Manx civil partnerships have been allowed since 2011 - the new legislation comes into effect on Friday.
Chief Minister Allan Bell described the move - which was backed by Tynwald in April - as an "historic moment" for the island.
"Recognition of marriage for same-sex couples shows just how far the island has travelled over the past 30 years," he said.
Homosexuality was only decriminalised on the Isle of Man in 1992 - a quarter of a century later than in England and Wales.
It is thought the island's first same-sex marriage is due to take place at the end of July.