MHKs elect Juan Watterson as Speaker of the House of Keys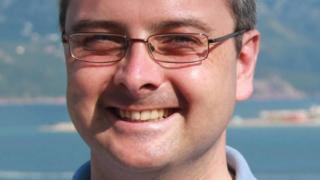 The 24 newly-elected members of the House of Keys have elected a new Speaker.
Former home affairs minister Juan Watterson received unanimous backing and will take up the position with immediate effect.
The Speaker is the principal officer of the House of Keys, the lower house of the Isle of Man parliament.
Mr Watterson said he was "honoured" to be chosen by his fellow MHKs after they were sworn in at Tynwald earlier.
The Rushen MHK was the only person nominated for the position and his success means he can no longer hold a ministerial position.
He said: "Thank you for placing your trust in me - it is a daunting task and I have big shoes to fill.
"I pledge myself to offer any assistance I can to the new members of the House - I am both your spokesperson and your servant."
Mr Watterson was re-elected at the 2016 Isle of Man General Election, topping the poll in the constituency of Rushen.
At 36, he is the joint longest-serving member of the House of Keys.
He was proposed for the role by Douglas South MHK Kate Beecroft who said he had "demonstrated that he does not back away from making tough decisions".
He takes over from Steve Rodan who was elected to the role of President of Tynwald on 19 July.
The island's new chief minister will be elected by Tynwald on 4 October following Allan Bell's decision to retire from politics after 32 years.