Manx birdwatchers in new Christmas bird record challenge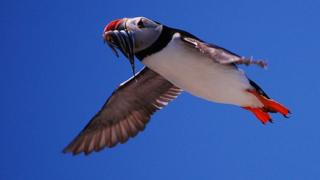 Birdwatchers have been challenged to set a new record for the number of bird species spotted on the island this Christmas.
Last year 111 different species were recorded during the annual competition run Manx Birdlife between 25 December and 1 January.
The conservation charity's managing director said the competition helps to build a "detailed picture of species".
Neil Morris added that it suits "expert birdwatchers and beginners alike".
Those interested can submit their sightings with the date, place and species on the Manx BirdLife website.
Mr Morris said: "It is a bit of festive fun and a great excuse to get some outdoor exercise at a time when most of us are probably indoors watching too much television."
The website will be regularly updated so people can keep up-to-date with all sightings.
Last year sightings included resident birds such as stonechats, robins and cormorants and winter visitors including whooper swans and great northern divers.
Bird sightings recorded at Manx BirdLife