Isle of Man Budget 2017-18: Income tax to be cut as health spending rises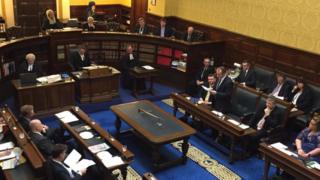 An additional 3,300 people will no longer have to pay income tax, the Isle of Man's Treasury Minister said during his maiden budget speech.
Alfred Cannan said his economic plan for the next five years was about "optimism, confidence and support... for working families and individuals".
Income tax allowances rise by £2,000 to £12,500 while child benefits will go up for the first time in seven years.
There will also be a sharp increase in health and social care spending.
Mr Cannan said "no-one would be left worse off" as a result of the budget.
"Now is the time to recognise the contribution of working families and individuals who have been asked to tighten their belts over the past few years," he added.
In 2015, then Treasury minister Eddie Teare proposed to lift income tax allowance to £14,000 and free "10,000 people from the tax net" but was forced to settle for an allowance of £10,500.
The 20% personal tax threshold remains at £19,000 but from 2018-19 the tax cap will rise from £125,000 to £150,000.
It will continue to rise by £25,000 for the following two years, Mr Cannan revealed.
From April, child benefit for the first or only child (up to age 16) will be increased from £20.40 to £20.80 per week. For subsequent children it will rise from £13.50 to £13.75.
Other measures announced by Mr Cannan included:
A £25 per week rise in benefits for those who pay residential nursing cares
Basic state pension to rise by 2.5% - about £3 a week
A freeze in most other benefits
About 8,000 public sector workers will see their government pension contributions held at 15%
The launch of a cycle-to-work initiative
Creation of a new government team to identify £25m in efficiency savings each year
Continuation of the £50m Enterprise Development fund
To establish a £1m fund to explore the implications of Brexit
Mr Cannan said the Department of Health of Social Care will see an increase of £11m in its annual budget.
The department, which overspent by approximately that figure last year and by £9.9m in 2015-16, will see its budget increased by 5.1% to £254.6m.
It has been tasked by the government with identifying £10m in savings.
Most other government departments have been allocated similar budgets to previous years, with total spending estimated at £964m, a 4.8% overall increase on 2015-16.
A capital expenditure budget of £88m was announced for 2017-18 with £388m invested in infrastructure during the next five years.
Mr Cannan said the Public Service Pension Reserve will be depleted by 2020-21, leaving a £58m shortfall which will need to be met from general taxation.