Bonnag World Championships: Manx baker claims title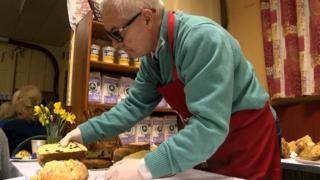 A Manx baker has been crowned the "world's best bonnag maker" at an annual competition in the Isle of Man.
Carolyn Kinrade walked away with the overall title beating more than 40 other entries at the World Bonnag Championships in Dalby.
Bonnag is a traditional sweet bread thought to have been a Manx staple for hundreds of years.
Dominic Gordon won the men's title and Eva Jones emerged with the children's title.
The event's lead judge Paul Kelly, who has more than 40 years experience, said the Manx sweet bread is particularly difficult to judge.
He said: "I never taste them - I go by smell and texture. If they are too high in bicarbonate of soda you won't taste the rest because it kills your taste buds."
Mr Kelly added: "A good bonnag maker needs to be a good chef with great knowledge but no matter how good they are, it won't always come out perfect."
---
Technical Challenge: Bonnag
300g Manx Soda Bread flour from the Laxey Mills
Two teaspoons of sugar
½ teaspoon of salt
Two handfuls of sultanas
55g of margarine or butter
Buttermilk
---