Isle of Man population falls for first time in 30 years, according to census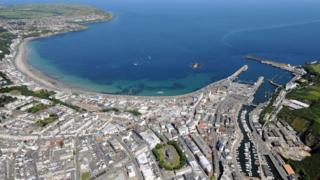 The Isle of Man's population has fallen for the first time in 30 years, the census has found.
The resident population on census night in April 2016 was 83,314 - 1,183 (1.4%) lower than in 2011 and the first decrease since 1986.
The author of the Isle of Man Population Atlas report, Paul Craine, said the decrease was "alarming".
A government spokesman said its estimates suggest the population has recovered by 200 during the last year.
The island's economically active population also fell over the same period, from 44,609 to 42,777 (4.1%).
'Alarming'
Mr Craine said: "For me the most alarming thing is the big picture - we've gone from a growth of 4,000 between censuses (2006-2011) to a drop of 1,200 and this has the potential to become cumulative.
"We are losing young people, especially in their 20s. The birth rate is falling in relation to that and this has the risk to become cumulative as fewer people grow up here and few people enter the workforce."
Census data also revealed that 41,636 people stated they were in employment on census day - 3.5% lower than the 43,134 five years earlier.
Chief Minister Howard Quayle said the results "underline the importance of growing the island's working population".
"In common with the rest of the developed world, the Isle of Man has an ageing society, so we do need a bigger working population paying taxes to support services for the increasing numbers in retirement," he said.
In January, Treasury's economic affairs announced the number of babies born in the Isle of Man had fallen for a sixth consecutive year, to a 30-year low.
The statistics show less than half the population (49.8%) are Manx born whilst 8.3% of residents were born outside of the British Isles or Irish Republic, compared to 7.5% in 2011.
The average age of the island's resident population has risen by more than a year, from 41.1 (2011) to 42.5.
Isle of Man census
Year
Resident population
Change %
1986
64,282
-0.6
1991
69,788
8.6
1996
71,714
2.8
2001
76,315
6.4
2006
80,058
4.9
2011
84,497
5.5
2016
83,314
-1.4