Dog dies following Isle of Man cliff fall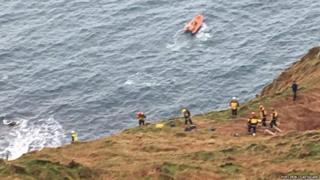 A dog has died after falling 160ft (50m) down a cliff on the Isle of Man, the coastguard has said.
The Port Erin coastguard responded to a report of a dog and a sheep having fallen at a remote location known as the Sloc at 09:00 GMT on Wednesday.
Both animals were rescued by the coastguard after the Port Erin lifeboat crew helped guide them to the location in the south of the island.
A coastguard spokesman said the dog later died from its injuries.
He said: "Two cliff technicians were deployed and both animals were successfully rescued and brought up the cliff, however unfortunately the dog later died from its injuries.
"The owner did the right thing and called the coastguard rather than try and attempt self-rescue.
The sheep's fate is not known.