Ramsey courthouse: Row after historic building put up for sale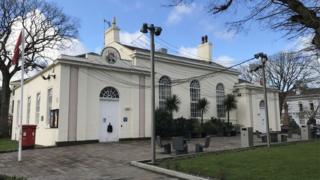 A row has broken out after a historic building in Ramsey was put up for sale by the Isle of Man government.
The former courthouse in Ramsey was built around 1800 and was last used as a post office.
Ramsey Commissioners said it is "angry" it was not offered the building before it was put on the market for £475,000.
Home Affairs Minister Bill Malarkey announced it had gone on the open market in this week's House of Keys to ensure it is sold for the "best price".
'Ramsey's heart'
A local estate agent said it is an "iconic building" and a chance to "acquire a piece of Ramsey's history".
A spokesman for Chrystals Estate Agents said it has already received "genuine interest from several parties".
Eric Corkish from the Ramsey Commissioners said it is possible it could buy the building with a 67p increase on rates.
He said: "Ramsey Commissioners have got the resources to make the purchase of the premises and then let it be used for the people of Ramsey."
Mr Corkish said he does not want the property to become "just another wine bar".
Ramsey Commissioners has invited Home Affairs Minister Bill Malarkey to a meeting to discuss the future of the building.
More than 930 people responded to a consultation over its value to the town, with many suggesting it was "Ramsey's heart".
The building has been central to the community in Ramsey for more than 200 years and has been used as a theatre, police station and post office.