Legislative Council unanimously backs change to election rules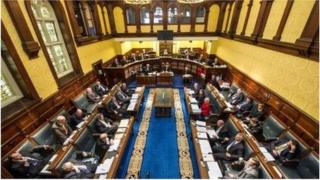 The Legislative Council has voted to change the way new members are elected to the Manx parliament's upper chamber.
At a special sitting, members voted unanimously to end the current system that means candidates need a minimum of 13 out of 24 votes to be elected.
It is not yet known how a replacement system will work.
Tynwald is made up of two chambers: the directly elected House of Keys (lower house) and the indirectly chosen Legislative Council (upper house).
A House of Keys standing orders committee is consulting Tynwald members about a new system.
The House of Keys has been electing members to the Legislative Council for nearly 100 years.
The Council includes eight elected members, the President of Tynwald, the Bishop of Sodor and Man, and the island's Attorney General.