Isle of Man prisoners could be allowed to smoke e-cigarettes in six-month pilot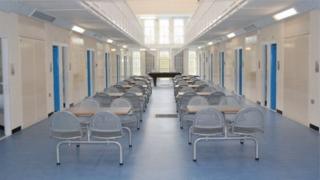 Prisoners in the Isle of Man could be allowed to smoke e-cigarettes, the Manx government has announced.
It said a six-month pilot was aimed at reducing "risks and harm" caused by inmates smoking "illicit materials" like nicotine patches and tea bags.
More than 800 power cuts have also been caused at the prison by inmates trying to light homemade cigarettes using kettles and plug sockets.
In March 2008 the prison at Jurby became Europe's first smoke-free jail.
A Department of Home Affairs spokesman said switching prisoners to e-cigarettes could save taxpayers £15,000 a year compared with providing them with nicotine replacement therapy.
He also said it would protect staff from inhaling toxic second-hand smoke.
The government will seek formal Tynwald backing this week for the measure, which would allow the use of disposable e-cigarettes on a trial basis at the discretion of the prison's governor.
Bob McColm said inmates had been caught soaking and smoking nicotine patches in addition to smoking dried tea bags and even banana skins.
Home Affairs Minister Bill Malarkey said he is recommending the policy change as a result of "updated evidence and medical opinion".
"I have been persuaded to revisit this issue by the weight of evidence provided by medical professionals and the availability of an e-cigarette that is specially designed for use in prisons," he said.
He stressed the trial "should not be interpreted as a failure of the prison smoking ban or the Department going soft on prisoners".
Prisoners who smoke are currently provided with nicotine replacement products - like patches - for a specified period to assist with the management of withdrawal symptoms.
Under the new scheme inmates would be allowed to purchase a disposable E-Burn electronic cigarette for use within the confines of their cell or outside spaces.
The E-Burn product has been developed by a former prison officer for safe operation in facilities such as prisons and mental health secure units and has been trialled in Guernsey Prison and secure facilities in the UK.
Prisons in Wales and a handful in England are currently smoke-free but allow e-cigarettes.