House of Keys marks 150 years of popularly elected government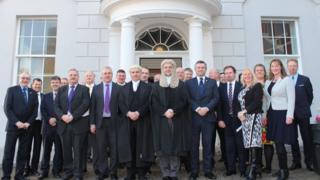 A special sitting of the House of Keys has been held at its original home to mark the 150th anniversary of the first popularly elected Manx government.
Events which led to the introduction of direct elections in 1867 were outlined to current Members of the House of Keys (MHKs) by historian Kit Gawne.
He said people had campaigned for political reform in the Isle of Man from the 1830s onwards.
The special sitting was held on Tuesday at The Old House of Keys in Castletown.
'Pivotal significance'
President of Tynwald Steve Rodan described 1867 as a "date of pivotal significance in the advancement of Manx parliamentary democracy".
The House of Keys is the lower house of Tynwald, the island's parliament.
Its former home in Castletown was last used as the House of Keys in 1874 before the parliament moved to Douglas.
Tynwald and University College Isle of Man have joined forces to host a symposium on 1 April at the Legislative Buildings to further mark the anniversary.
A spokesman said: "'House of Keys: Power, Parliament and the People' will bring together eminent Manx history experts to examine the social and economic context of Manx democratic reform in the 18th and 19th centuries."
Mr Rodan said it will provide an opportunity to "recognise and celebrate those individuals who helped to bring about social change and shape the Tynwald of today".