Isle of Man to Glasgow flights could soon be restored, says minister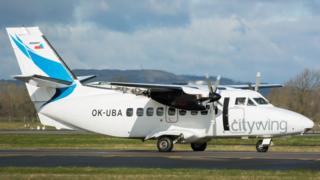 A direct air service between the Isle of Man and Scotland could be restored soon, a Manx government minister said.
The Ronaldsway to Glasgow route was one of five cancelled last week after the "virtual airline" Citywing went into liquidation.
Services to Belfast and Newcastle from Ronaldsway have already been picked up by UK-based Eastern Airways.
Infrastructure Minister Ray Harmer said the government was "finalising plans" for a replacement Glasgow service.
Eastern Airways is currently operating one daily service to Belfast on weekdays only but plans to add a second and introduce weekend flights.
Mr Harmer said: "I am confident that over the next few days there will be further announcements regarding other routes."
For refunds, Citywing passengers are advised to contact their credit card company or travel insurance provider.
Mr Harmer said his department only heard Citywing was ceasing trading two hours before the news was made public.