Gale warning cancels ferries between Isle of Man and UK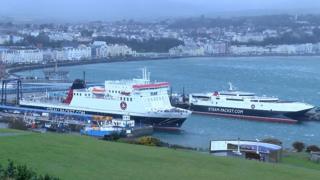 Strong winds forecast for the Irish Sea have forced the cancellation of ferries between the Isle of Man and the UK.
The Isle of Man Met Office said winds could reach gale force eight at about midday and reach speeds nearing 50mph (80km/h) off the Lancashire coast.
Ferry operator the Steam Packet Company cancelled the 08:45 GMT sailing between Douglas and Heysham and the return 14:15 sailing.
Friday's 19:45 sailing and another at 02:15 on Saturday have been cancelled.
Forecaster Kirsty Pendlebury said winds would be at their peak between 11:00 and 16:00 and that several heavy rain showers were expected.
Passengers have been advised to contact the ferry firm for more information.