Isle of Man's £7.2m new mental health unit to open in April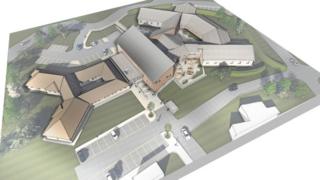 A new £7.2m mental health unit will open on the Isle of Man next month, the government has confirmed.
Tynwald approved funding for the hospital, which will replace Grianagh Court in Braddan, in May 2015.
Health Minister Kate Beecroft said it means patients with the greatest needs are guaranteed a safe and positive therapeutic environment for treatment and recovery.
The new facility will accommodate up to 26 patients - 30% more than at present.
The current Grianagh Court facility has been operated at 100% occupancy for several years and did not comply with the Royal College of Psychiatrists' recommendations.
Mental health services manager Paul Hurst said "all indoor and outdoor spaces have been designed and built to the highest standard" at the new unit.
The new facility is expected to be fully operational from 4 April.