William Kennish: New York memorial for 'forgotten Manx hero'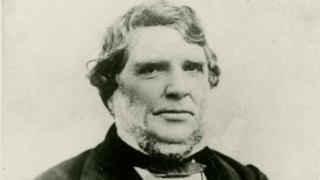 A memorial stone, shipped from the Isle of Man, has been unveiled at the New York grave of an "outstanding Manxman" on the 155th anniversary of his death.
William Kennish was a self-taught inventor, explorer, poet and engineer who died in Brooklyn on 19 March 1862.
President of Tynwald Steve Rodan read a eulogy during a short service before the stone was revealed at Mr Kennish's previously unmarked grave.
Mr Rodan said it was a fitting tribute to a "great Manxman".
'Forgotten hero'
He told PMTV: "Thanks to William Kennish's amazing inventions, the books he wrote, the life he led, we know more about life on the Isle of Man than we did before."
Amongst his inventions was the Marine Theodolite, which enabled ship's guns to rotate for the first time.
"His inventive genius took naval gunnery out of the dark ages," said Mr Rodan.
The Manx Granite Memorial stone was funded by the The William Kennish Memorial Trust.
A spokesman for the trust said his story was even more incredible because he was unable to speak, read or write in English when he first joined the Royal Navy.
At that time, he only knew his native Manx Gaelic.
Within seven years, though, he had risen through the ranks to become the master carpenter to the Mediterranean Fleet.
The Trust's Bob Stimpson said at the time he would have been as "well known to people as cyclist Mark Cavendish is today."
Mr Kennish died of of pneumonia in New York and was later buried in an unmarked grave at Green Wood Cemetery in Brooklyn.