Langness farmer 'heartbroken' after two lambs killed by dog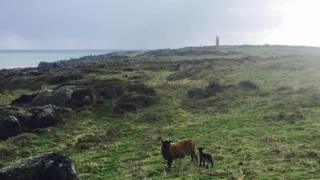 Two lambs have been killed by a dog at Langness on the Isle of Man, less than a month after Tynwald warned owners about sheep worrying.
It is the second attack since the campaign about the impact of dogs on livestock was launched.
Nearly 50 separate incidents have been reported since 2015.
Farmer Kirree Kermode said it was "heartbreaking" as the lambs, the first born at Langness in years, "were doing so well".
She said the lambs, which were just days old, both had visible puncture wounds and their injuries included a crushed skull, ribs and spine.
She added that one of the lambs' mothers was also hurt in the attack.
"One mother has an injured leg and wool torn off as she had obviously tried to save her baby," she said.
Police asked anyone with information to get in touch.