More Manx £1 notes may be issued as UK launches 12-sided coin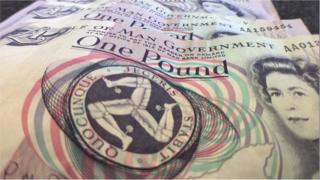 The number of Isle of Man £1 notes in circulation could increase following the introduction of 12-sided £1 coins in the UK, a minister has said.
The new UK coins, designed to reduce forgery, went into circulation earlier.
The round pounds will still be accepted on the island after they cease to be legal tender in the UK on 15 October.
Speaker of the House of Keys Juan Watterson said he hopes issuing notes will reduce the likelihood of forged round coins arriving on the island.
Mr Watterson said he also hoped the introduction of more Manx £1 notes would also "encourage people to to use Manx currency".
The Manx Treasury said they would be "delighted" to introduce more £1 notes if they were required.
Treasury minister Alf Cannan said his department will make a "concerted effort" to increase the number in circulation, especially up to and during the TT period.
One pound notes are no longer used in England, Northern Ireland and Wales in the 1980s but are still issued in Scotland.
A Treasury spokesman said the UK's round pounds would be "gradually repatriated" following the introduction on their new coins.
The dodecagon coin was announced in the UK's 2014 budget and has been billed by the Royal Mint as "the most secure coin in the world".
Mr Cannan said whilst there was potential for an increased flow of counterfeit coins to the Isle of Man, it would require "considerable effort and expense" to bring in a significant number.
The Royal Mint estimates around 3% of UK coins are counterfeit.
---
Manx currency
As a Crown Dependency, the Isle of Man issues its own banknotes and coins
These, in common with UK coins, bear the portrait of Her Majesty the Queen
Isle of Man coins and notes are not legal tender in the UK, but UK coins and notes are accepted on the island
Source: The Royal Mint
---