'Prayer' labyrinth carved in Bali opens at Peel Cathedral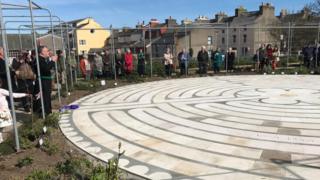 A labyrinth created in Indonesia and designed to promote "reflection, spiritual exercise or prayer" has opened on the Isle of Man.
The carving, carved by Balinese stone mason Ongky Wijana for Peel's Saint German's Cathedral, symbolises the path to God, a spokesman said.
It is a replica of a medieval labyrinth at the Chartres Cathedral in France.
The Very Reverend Nigel Godfrey said walking labyrinths "can help reduce anxiety and stress".
The stone mason cut the work from two types of stone on land overlooking his village in the south-east of Bali.
It took him about eight months to create and was then shipped to the Isle of Man in more than 20 crates.
The work includes the names of the eight religious houses that had property on the Isle of Man in the 13th Century - Rushen Abbey, Douglas Priory, Myroscough, Rievaulx Abbey, Whithorn Priory, Furness Abbey, Bangor Abbey, Sabal Abbey and St Bees Priory.
The sculptor has carved a number of crosses on the island and has been "a key figure in a regeneration project for Saint German's Cathedral", his spokesman said.
He added that the 32-year-old had been "introduced to the richness of Celtic culture by his wife, Hannah who hails from the Isle of Man".
The labyrinth is the latest part of the regeneration project at the cathedral, which has also included several new gardens being planted.