Sailors rescued from stricken yacht off Isle of Man coast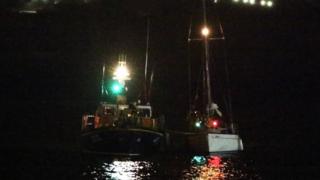 Two sailors from Scotland have been rescued after their boat got into difficulties off the Isle of Man coast.
The lifeboat was launched at about 03:00 BST after the small yacht got into difficulties two miles from Douglas due to a lack of wind.
With insufficient fuel to complete their journey, the crew called for assistance.
The RNLI all-weather lifeboat rescued the crew and towed their vessel back to Douglas.
The sailors had set off from Kirkcudbright at 10:30 BST on Tuesday.