Girl, 7, injured in suspected Douglas hit-and-run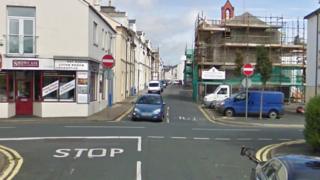 A girl has been injured during a suspected hit-and-run on the Isle of Man, police have said.
Isle of Man Police said the seven-year-old was hit at the junction of Allan Street and Westmoreland Road in Douglas at about 18:55 BST on Wednesday.
Officers believe she was struck by a white 4x4, which then drove off without stopping.
The girl's mum Natalie Osborne said she had suffered bruising, but "it could have been a lot worse".
Her daughter had been walking back from the shops with her 17-year-old son when she was hit by the car, she said.
She added that it was "very upsetting that the driver did not stop or even ask if she was okay".
Police have asked anyone with information about what happened to get in touch.