Majority of Manx teachers face pupil violence or abuse, Nasuwt says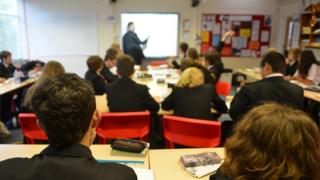 An "overwhelming majority" of Manx teachers have experienced violence or abuse from pupils outside school, a teaching union has said.
A Nasuwt survey found 82% had been verbally abused and 9% had faced physical threat or attack.
The union said the study, the first of its kind on the Isle of Man, gathered about 80 teachers' responses.
The Manx government said the low number of respondents meant it had "serious concerns about the report's validity".
A spokesman for the Department of Education and Children added that it made "strong assumptions on the basis of a limited response to their survey".
According to government figures, there are about 870 full-time teachers currently working on the Isle of Man.
The union said it stood by the report's validity and robustness.
'Three reported assaults'
Following the publication of the study, which also found 8% of union members had faced abuse via email or social media, Nasuwt called for the Manx government to improve behaviour polices within schools.
"It cannot be acceptable that the overwhelming majority of teachers are reporting... verbal abuse and threats outside of school and some are even being attacked," a spokesman said.
"There is a clear need for all schools to address the poor behaviour of a minority, regardless of whether the poor behaviour occurs within or outside the school gates."
The government spokesman said that they "acknowledge the concerns raised", but "the scale of this problem is not as significant as stated in the report".
"The most recent report from the local constabulary indicated that they had taken action on only three reported assaults on teachers over the last five years," he said.
"Clearly, therefore, we need to be proportionate in our response and not damage the reputation of our children and young people while we continue to protect staff."
A representative for the NUT teaching union said the survey was not representative of most teachers on the Isle of Man.
He added that it was his belief that "one or two teachers have been affected over a period of several years".