Horse rescued after falling into Isle of Man ditch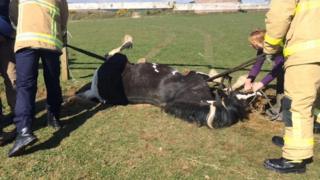 A horse has been rescued after stumbling into a ditch.
The seven-year-old horse named Jazz was left distressed after falling into the ditch on land next to Honey Hill near Onchan on the Isle of Man on Saturday.
Firefighters helped the owner to lift the Irish sports horse to safety at about 15:00 BST. It did not suffer any serious injuries.
Owner Sammy Cattle said: "She's a little stiff but back on her feet, happy and eating."
Miss Cattle said she came back from a show to find her stuck and struggling to breathe due to her organs being crushed from lying so long.
"We tried everything we could but just couldn't get her up."
She said she was grateful to the fire service and Derry Kissack for their help.