Isle of Man government proposes new measures to protect whelk stock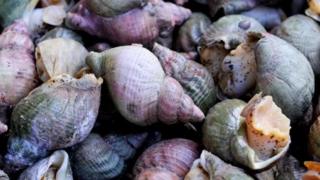 New measures to prevent overfishing of whelks in the Irish Sea have been put forward by the government.
The proposals include whelk-specific fishing licences and extending the restrictions of catches from three miles to 12 from the Isle of Man coast.
The whelk harvesting industry is worth in the region of £750,000 to the Manx economy each year.
Fisheries Minister Geoffrey Boot said the aim of the proposals was to achieve sustainability.
Mr Boot said: "Whelks are one of five major species - along with king and queen scallops, lobsters and crabs - caught in Manx waters and contribute to an increasingly high-value and quality industry."