Ben-my-Chree: Ferry failure leads to Irish Sea cancellations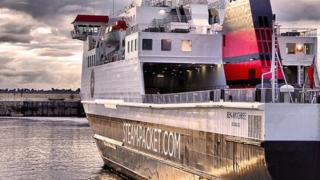 Sailings between the Isle of Man and Lancashire have been cancelled after a ferry suffered a mechanical failure.
The Steam Packet Company said it "proved impossible" to fix the Ben-my-Chree in Heysham and it returned to Douglas without passengers on Sunday.
A spokesman said they are working to repair the ship but its 08:45 and 14:15 BST sailings to and from the Lancashire port have been cancelled.
The ferry is expected to return for the 19:45 service to Heysham.
Passengers affected by the cancellations were offered a place on the company's fastcraft catamaran, the Manannan.
Chief Executive Mark Woodward apologised to passengers who have had their travel plans disrupted.
He said: "We are committed to minimising the inconvenience to our customers and are making every effort to ensure a speedy return to service."
The Ben-my-Chree has been part of the company's fleet for 18 years.
A spokesman added that the MS Arrow has been brought in to ensure "vital freight services" are maintained.