Manx Treasury launches first new coins in 13 years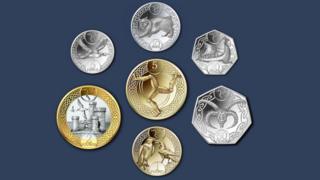 The first new set of Isle of Man coins for 13 years has been launched by the Manx Treasury.
The set of seven includes a new version of the five-pound coin, which was first introduced on the island in 1981.
The coins, produced by the London-based Tower Mint, will be unveiled at the Tynwald library at midday.
All have the year of issue and QUEEN ELIZABETH II - ISLE OF MAN inscribed on one side and an "intrinsically Manx" image on the other, the Treasury said.
The images include a Manx shearwater, Manx cat, the Triskelion and a Viking longship.
The set features five, ten, twenty and fifty pence pieces and one, two and five pound coins.
---
Manx currency
As a Crown Dependency, the Isle of Man issues its own banknotes and coins
These, in common with UK coins, bear the portrait of Her Majesty the Queen
Isle of Man coins and notes are not legal tender in the UK, but UK coins and notes are accepted on the island
Source: The Royal Mint
---