Ben-my-Chree: Ferry resumes Irish Sea crossings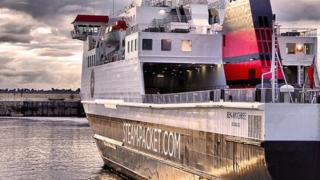 Sailings between the Isle of Man and Lancashire have resumed after repairs were carried out to a ferry which suffered a mechanical failure.
Several crossings were cancelled on Sunday and Monday after the Ben-my-Chree experienced engine problems.
The Steam Packet Company said it successfully completed its first return crossing to Heysham and four more sailings are scheduled for Tuesday.
The Ben-my-Chree has been part of the company's fleet for 18 years.
A spokesman said the problem had been caused by a "failed cylinder head-securing stud on one of the two main engines".